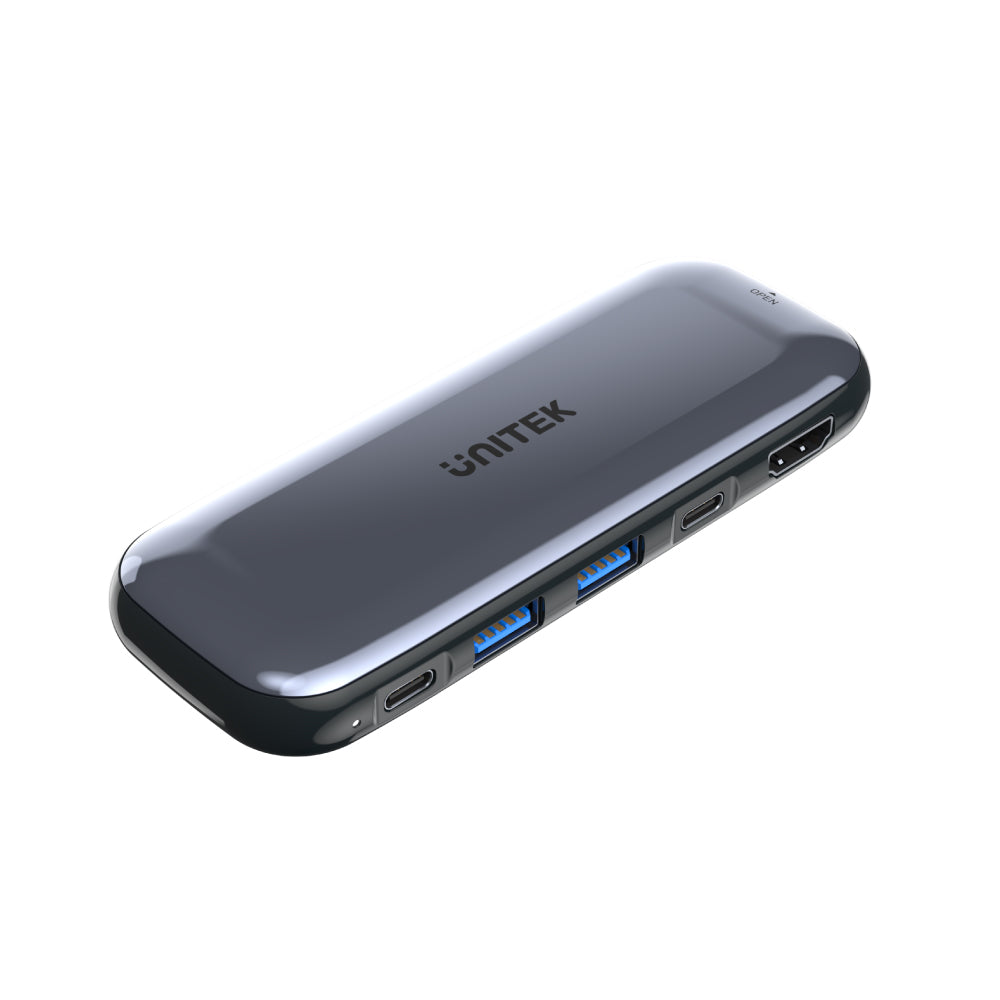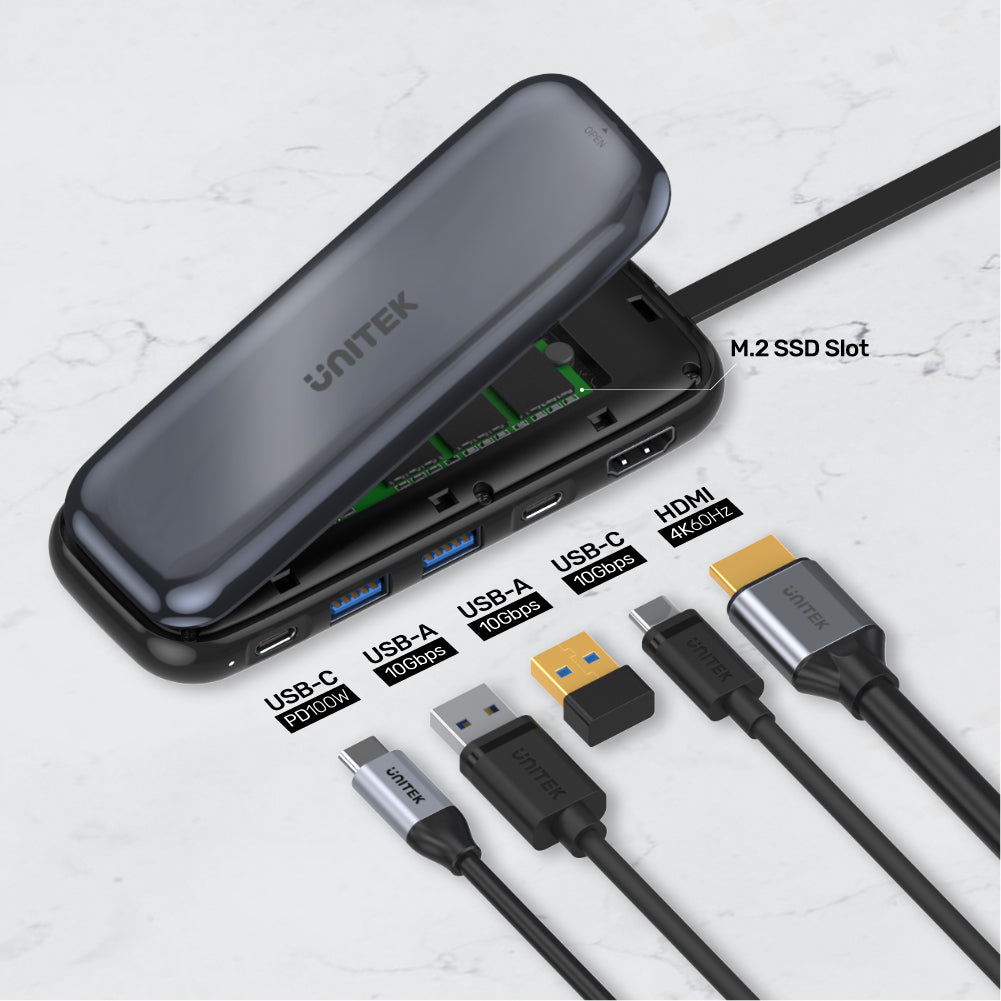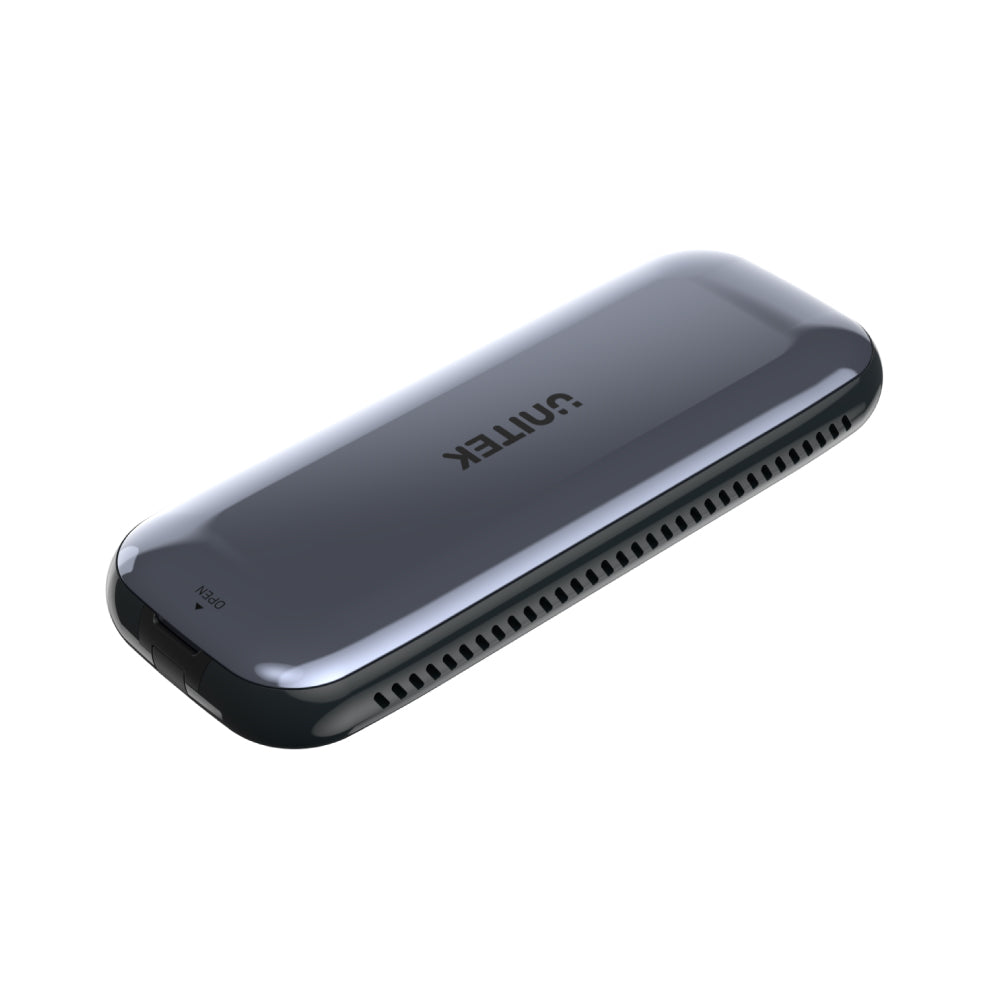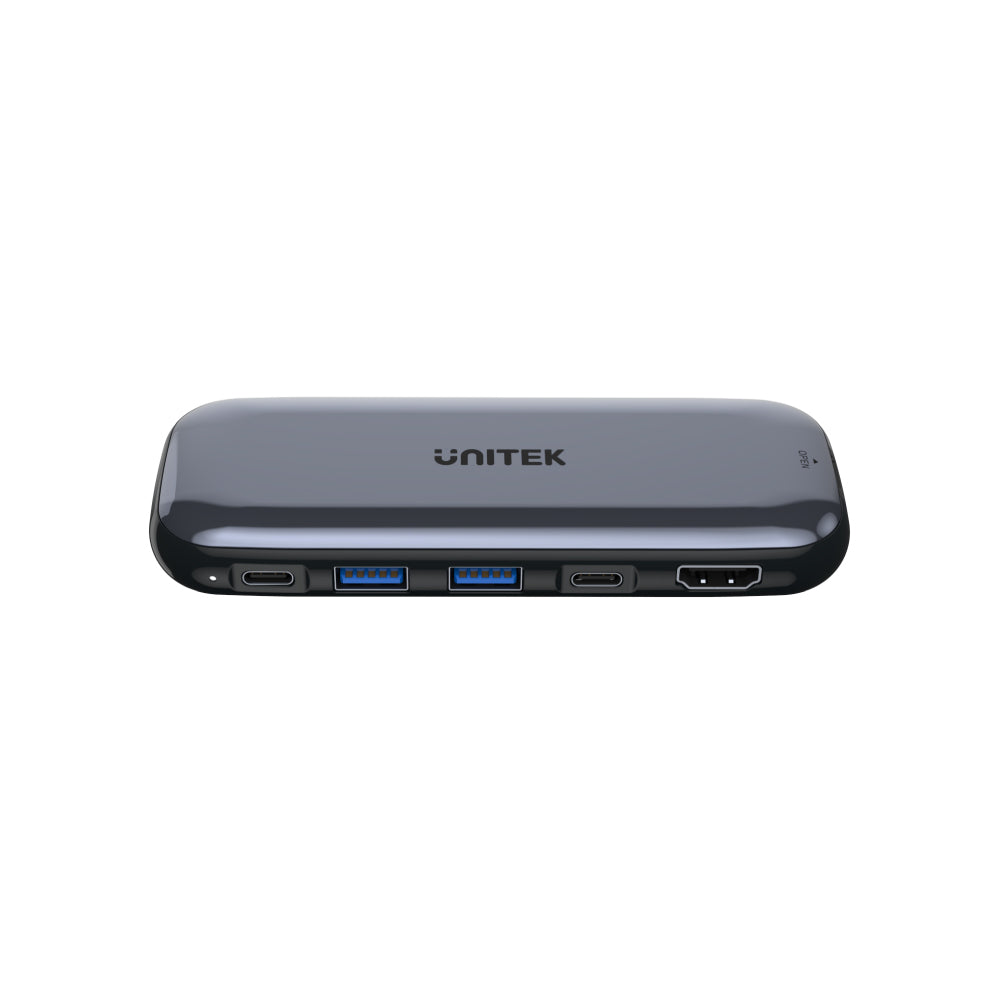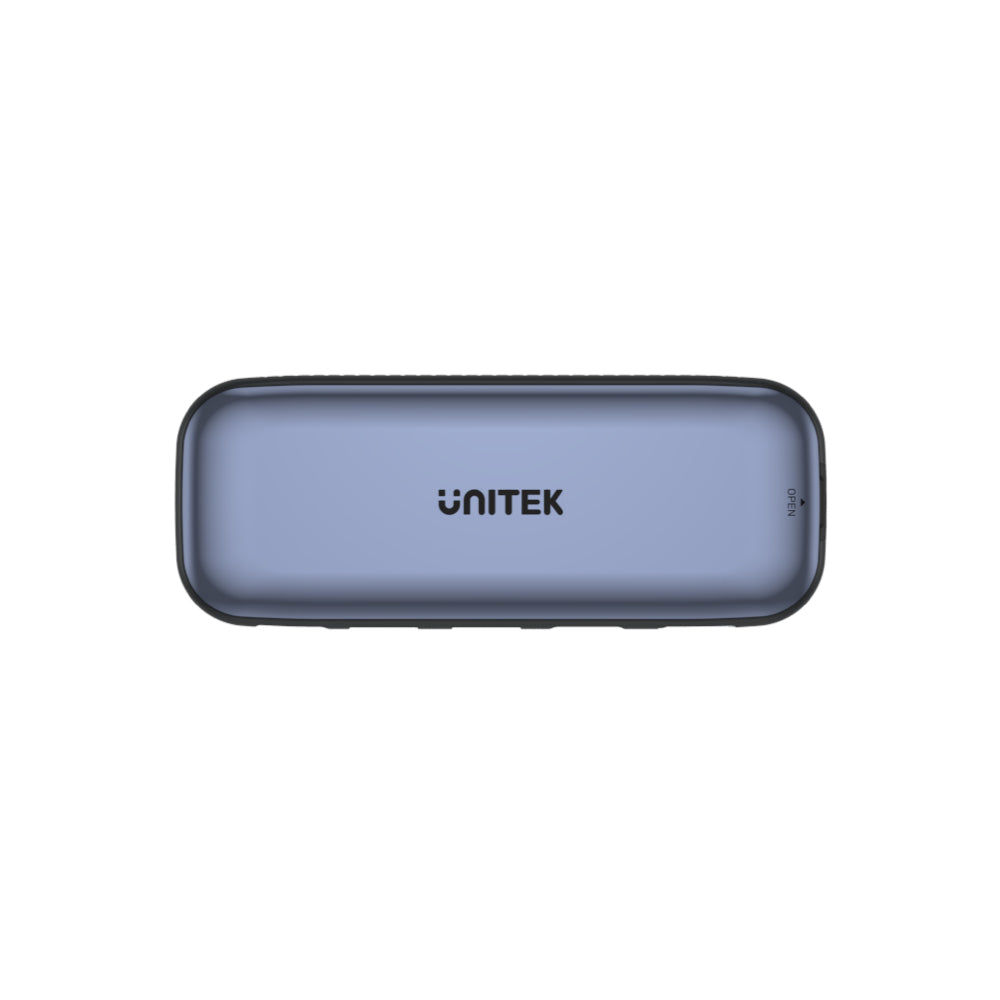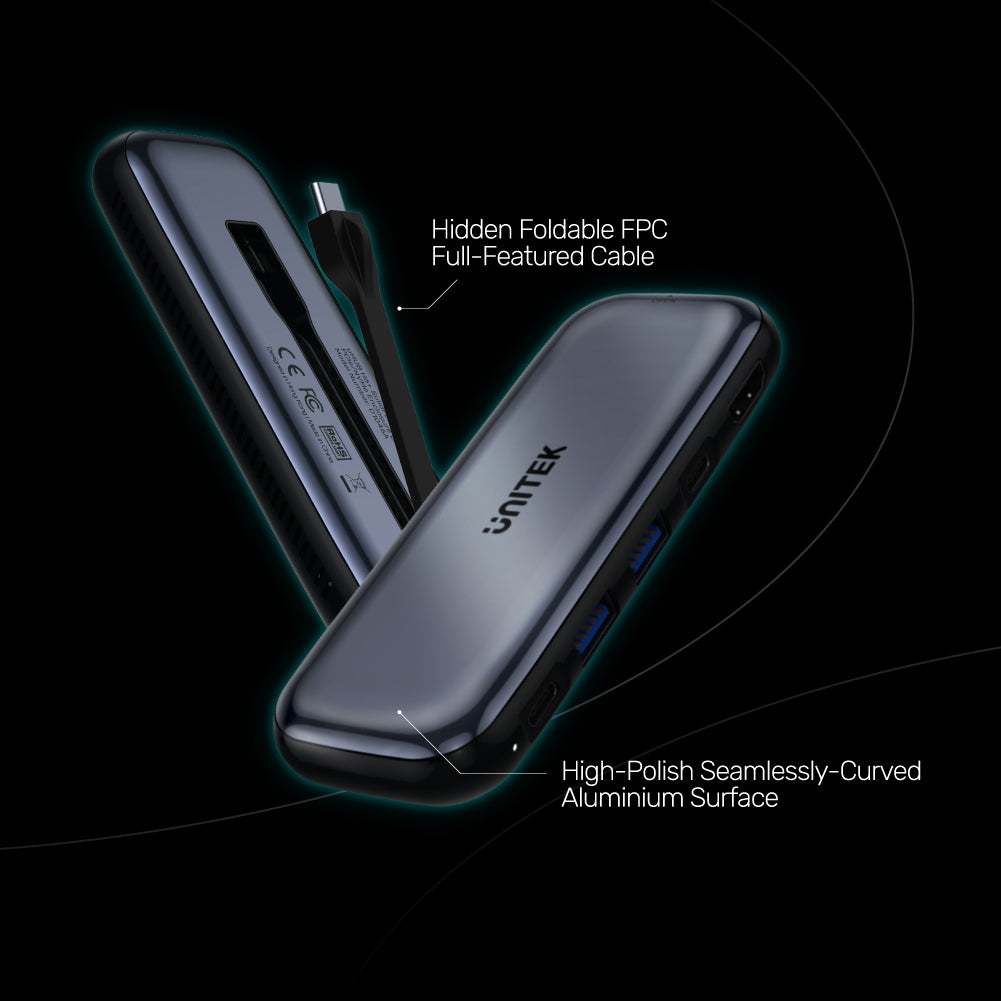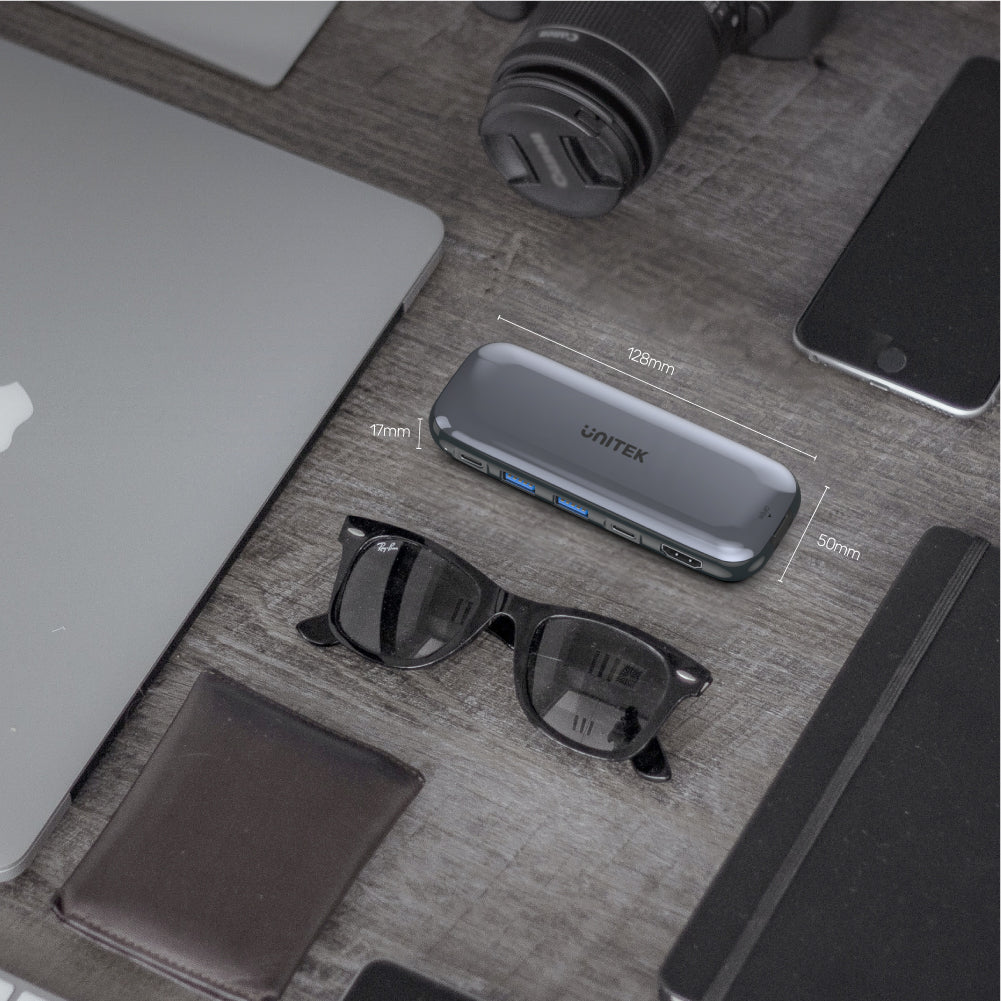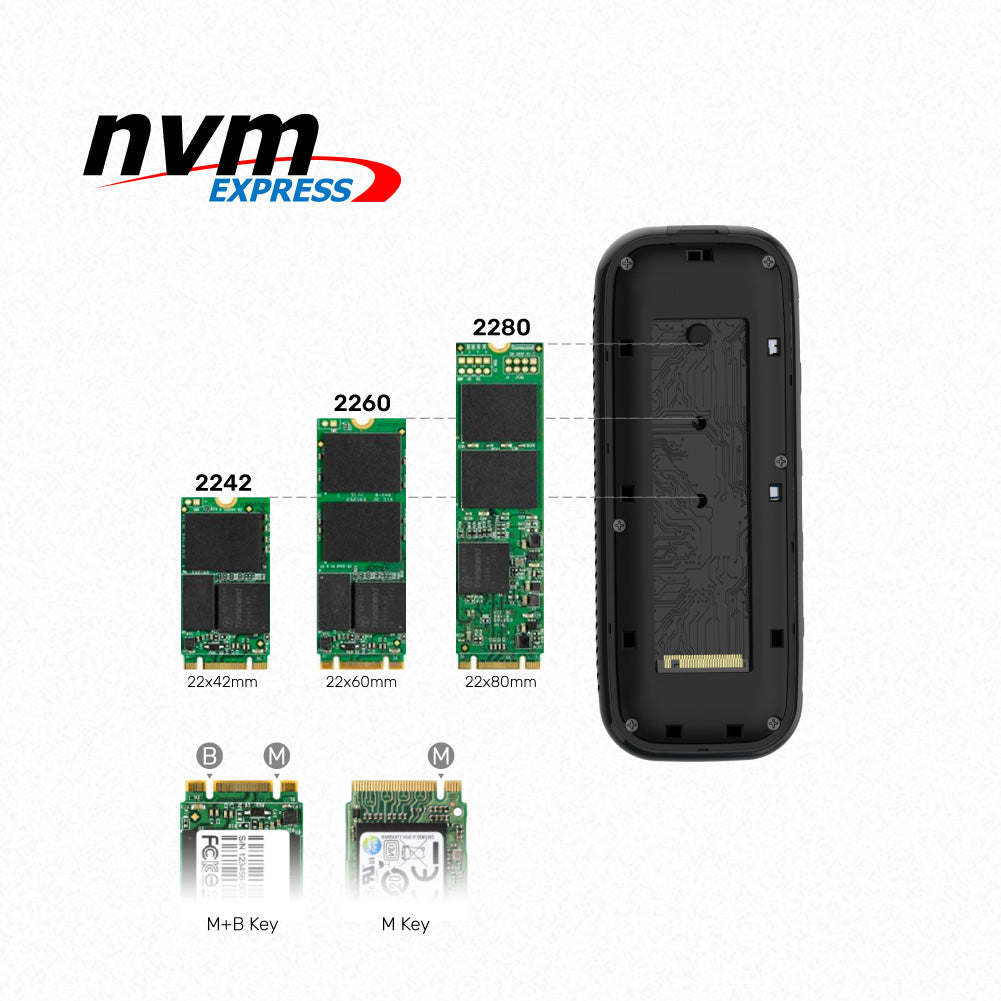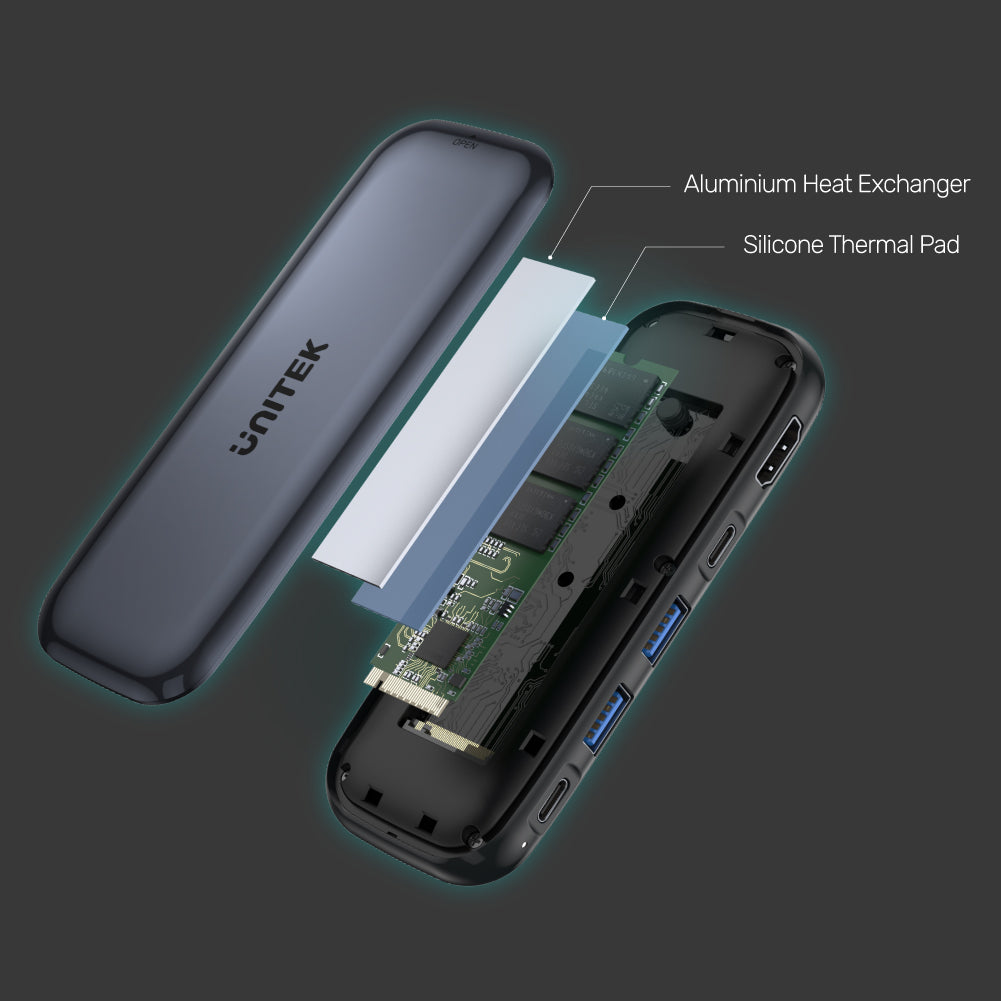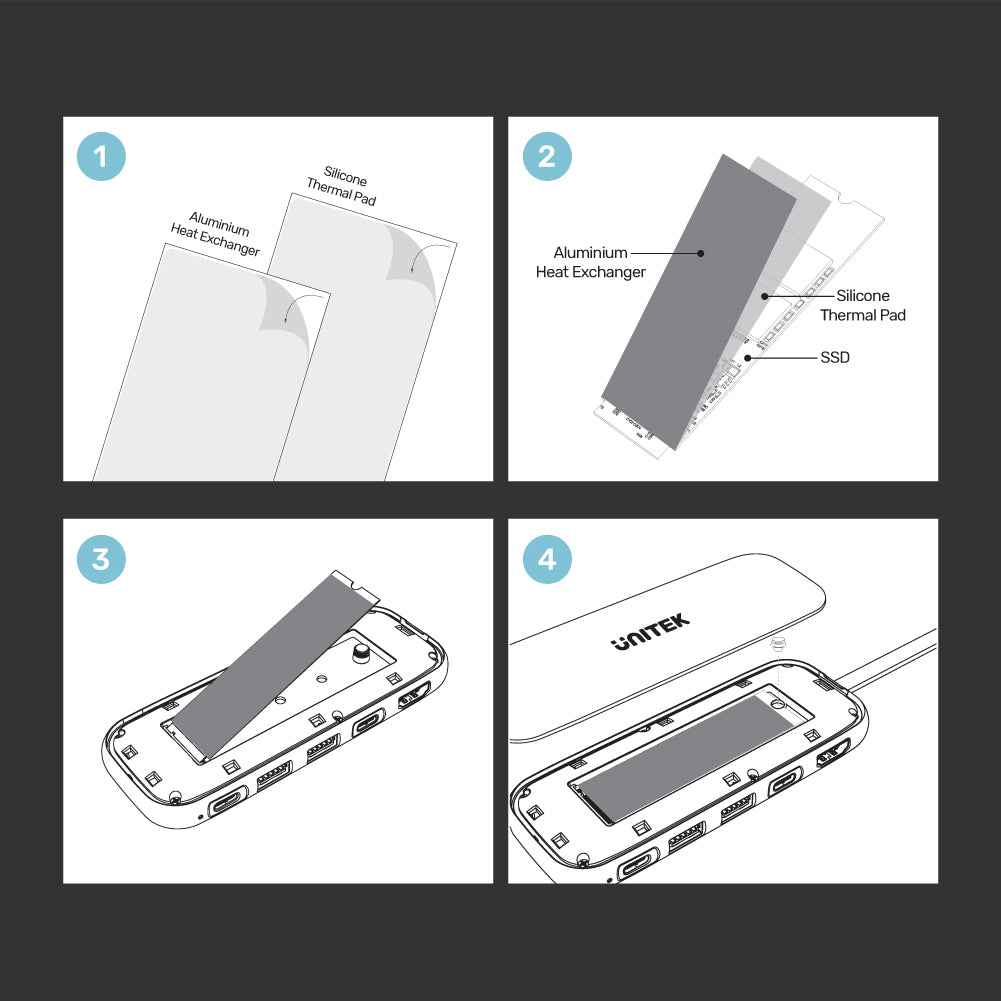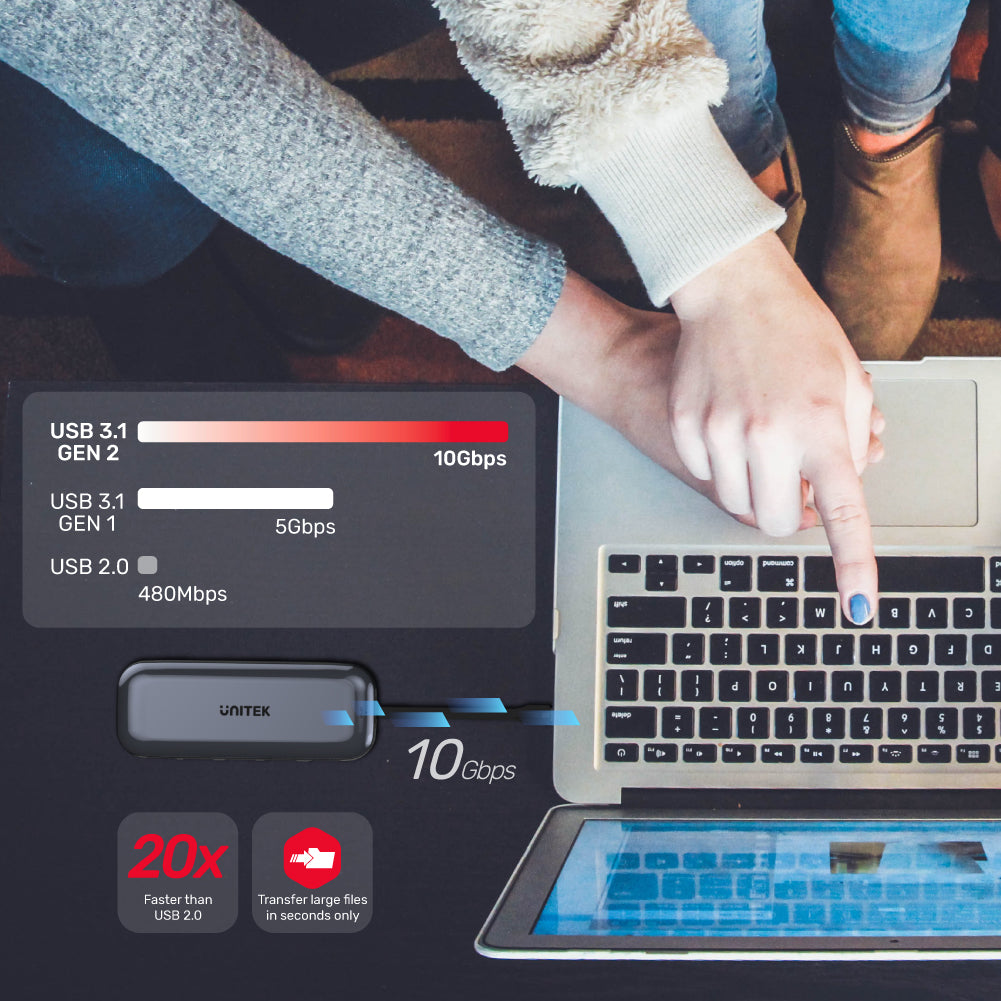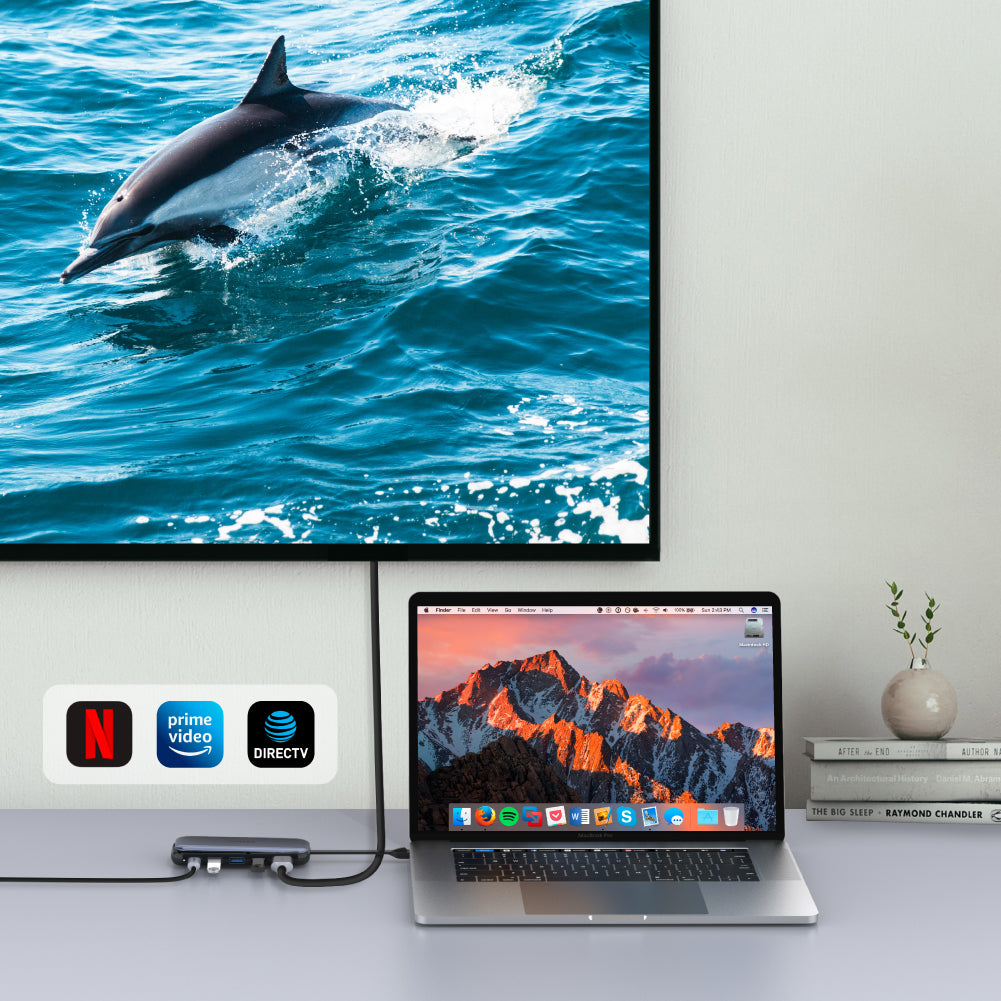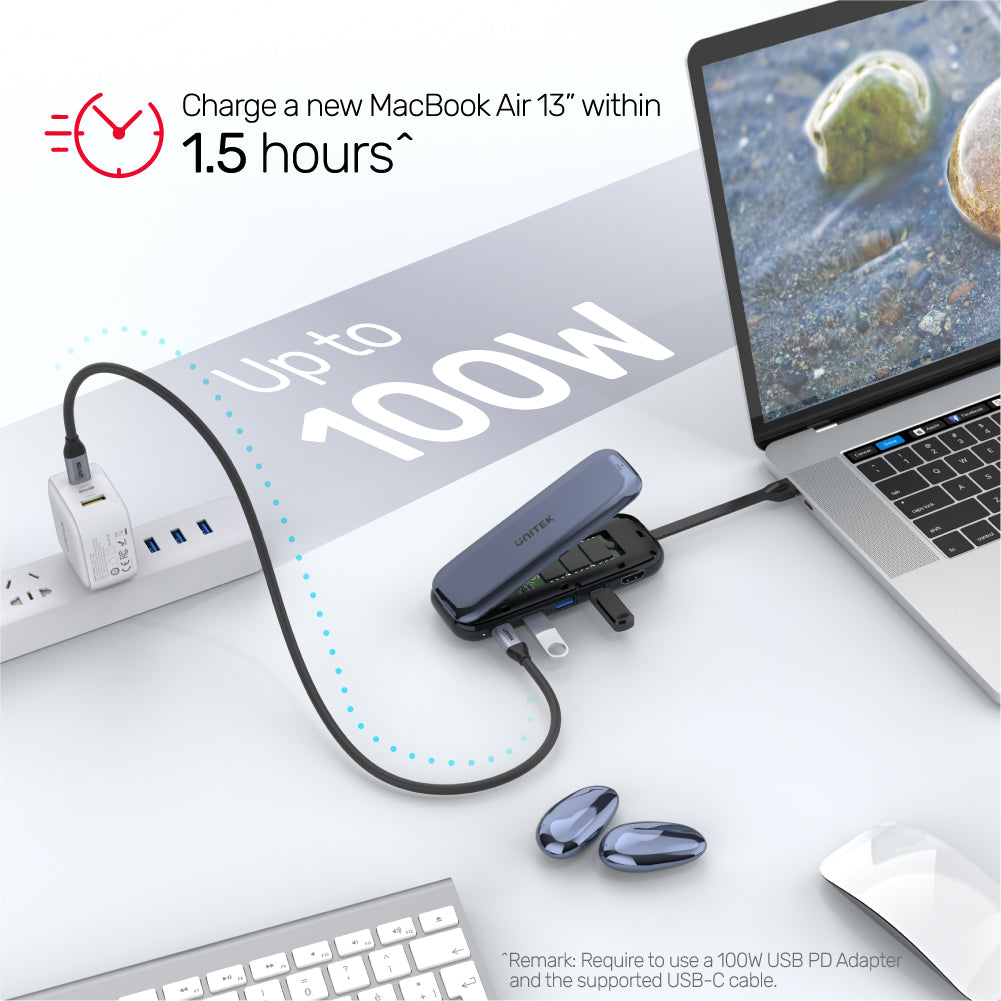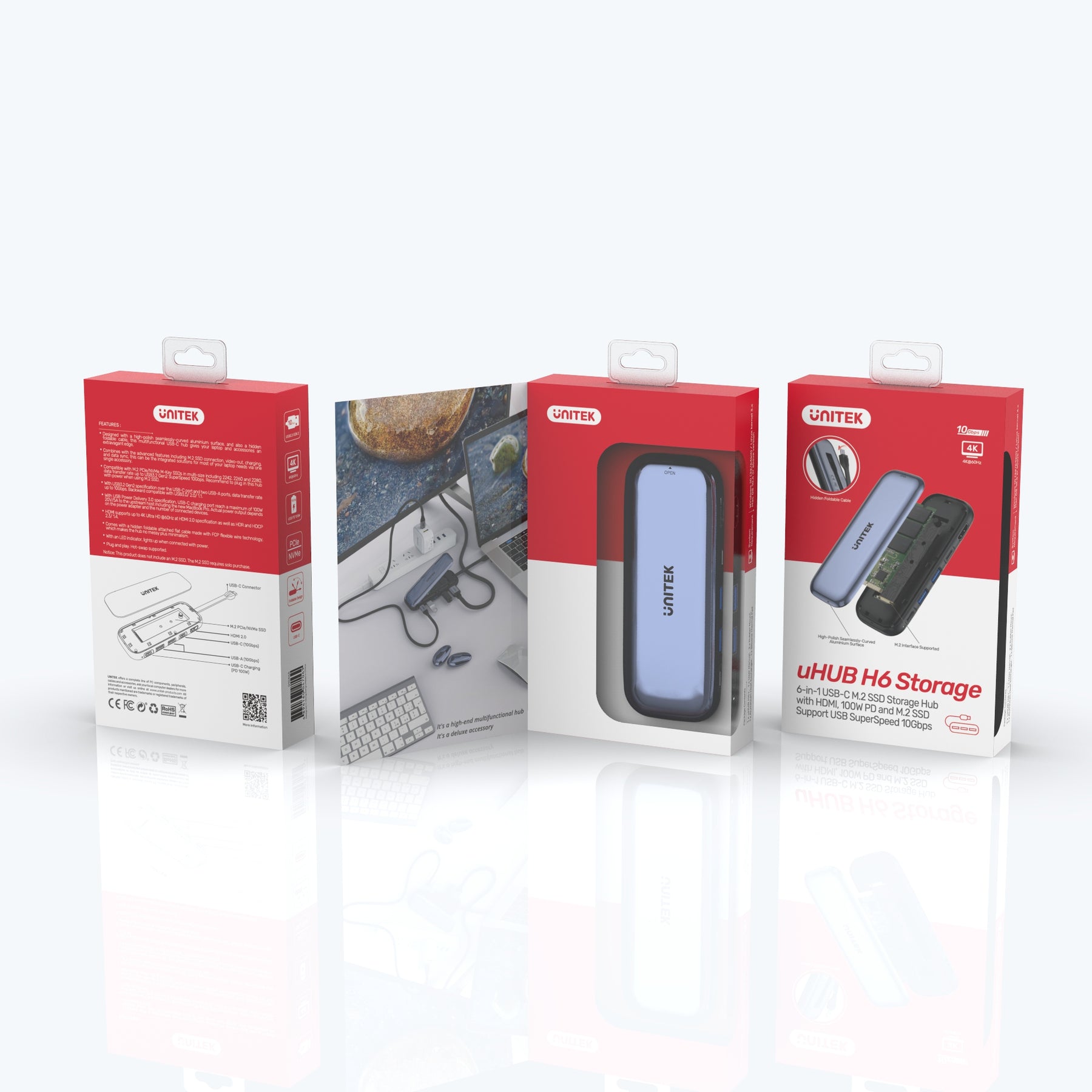 uHUB H6 Storage 6-in-1 USB-C M.2 SSD Storage Hub with 10Gbps Data, HDMI and PD 100W
This uHUB is a hybrid hub that combines with M.2 slot for M.2 PCIe/NVMe SSD, 3 ports USB (one USB-C and dual USB-A) expansion over USB3.2 Gen2 SuperSpeed plus 4K 60Hz ultra HD HDMI 2.0 and USB-C 100W 20V/5A PD. High-polish aluminium-alloy curved surface gives it an excellent finishing.
Product Description
• Designed with a high-polish seamlessly-curved aluminium surface, and also a hidden foldable cable, this multifunctional USB-C hub gives your laptop and accessories an extravagant edge.
• Combines with the advanced features including M.2 SSD connection, video-out, charging and data sync, this can be the integrated solutions for most of your laptop needs via one single accessory.
• Compatible with M.2 PCIe/NVMe M-Key SSDs in multi-size including 2242, 2260 and 2280, data transfer rate up to USB3.2 Gen2 SuperSpeed 10Gbps. Recommend plugging in this hub with power when using M.2 SSD.
• With USB3.2 Gen2 specification over the USB-C port and two USB-A ports, data transfer rate up to 10Gbps. Backward compatible with USB3.0/ 2.0/ 1.1.
• With USB Power Delivery 3.0 specification, the USB-C charging port reaches a maximum of 100W 20V/5A to the upstream host including the new MacBook Pro. Actual power output depends on the power adapter and the number of connected devices.
• HDMI supports up to 4K Ultra @60Hz at HDMI 2.0 specification as well as HDR and HDCP 2.3/ 1.4.
• Comes with a hidden foldable attached flat cable made with FCP flexible wire technology, which makes the hub no messy plus minimalism.
• With an LED indicator. Plug and play, hot-swap supported.
Notice: This product does not include an M.2 SSD. The M.2 SSD requires solo purchase.
Product Spec
Colour
Space Grey
Dimension
128mm x 50mm x 17mm
Materials
High-Polish Aluminium-Alloy Surface, ABS Frame
Upstream
Full-Featured USB-C
Downstream
• 2 x USB-A (Up to 10Gbps)
• USB-C (Up to 10Gbps)
• USB-C PD (100W PD Charging)
• HDMI (Up to 4K 60Hz, HDCP2.3)
• M.2
Input
USB-C PD Max. 100W/ 20V5A (from PD Charger)
Output
USB-C PD Max. 100W/ 20V5A
Cable Length of Attached Cable
9.7cm
Packaging Content
1 x uHUB H6 Storage
2 x Rubber Mount
1 x Aluminium Heat Exchanger
1 x Silicone Thermal Pad
1 x User Manual