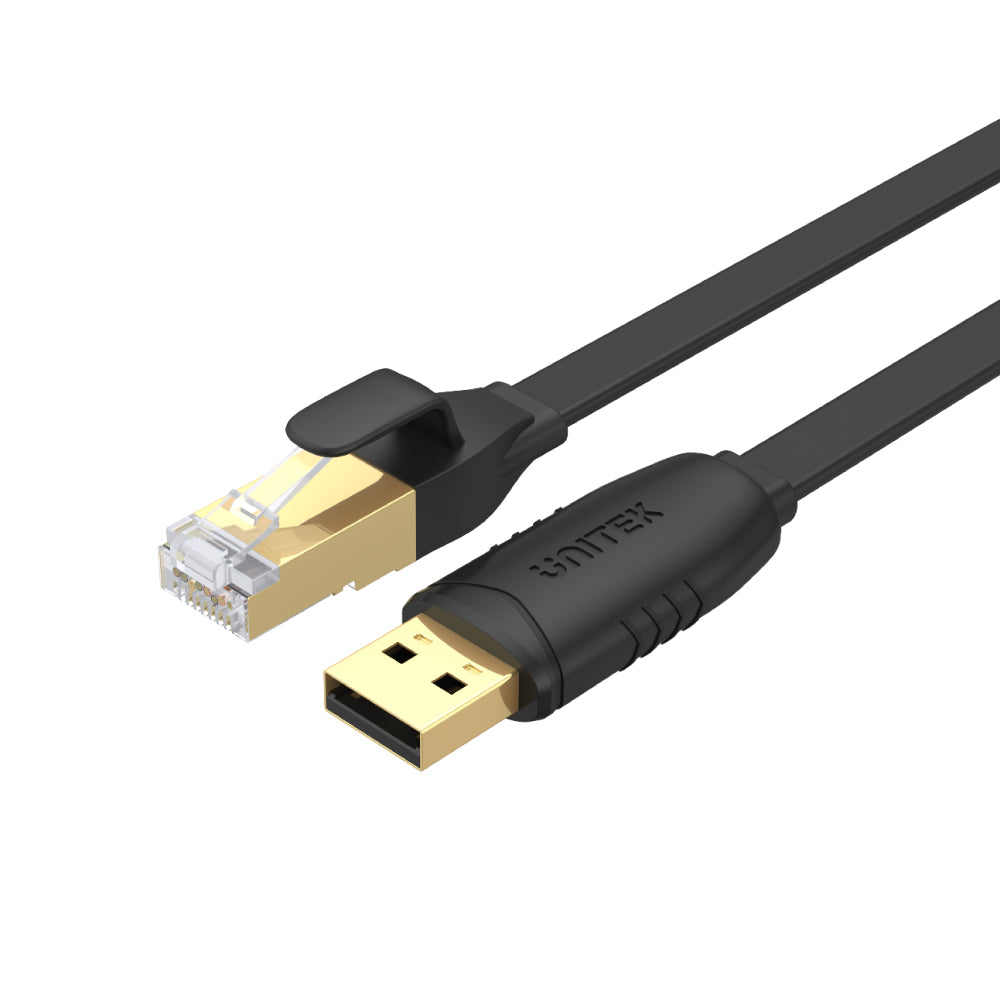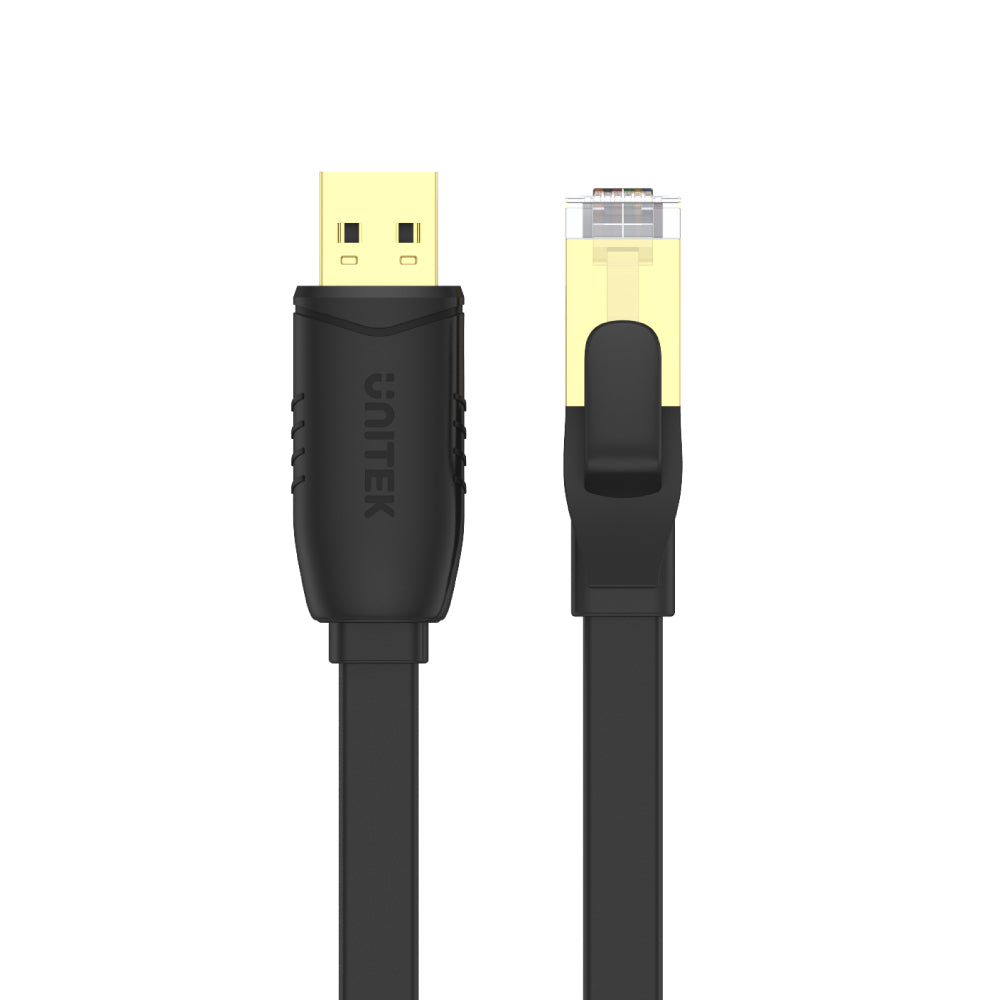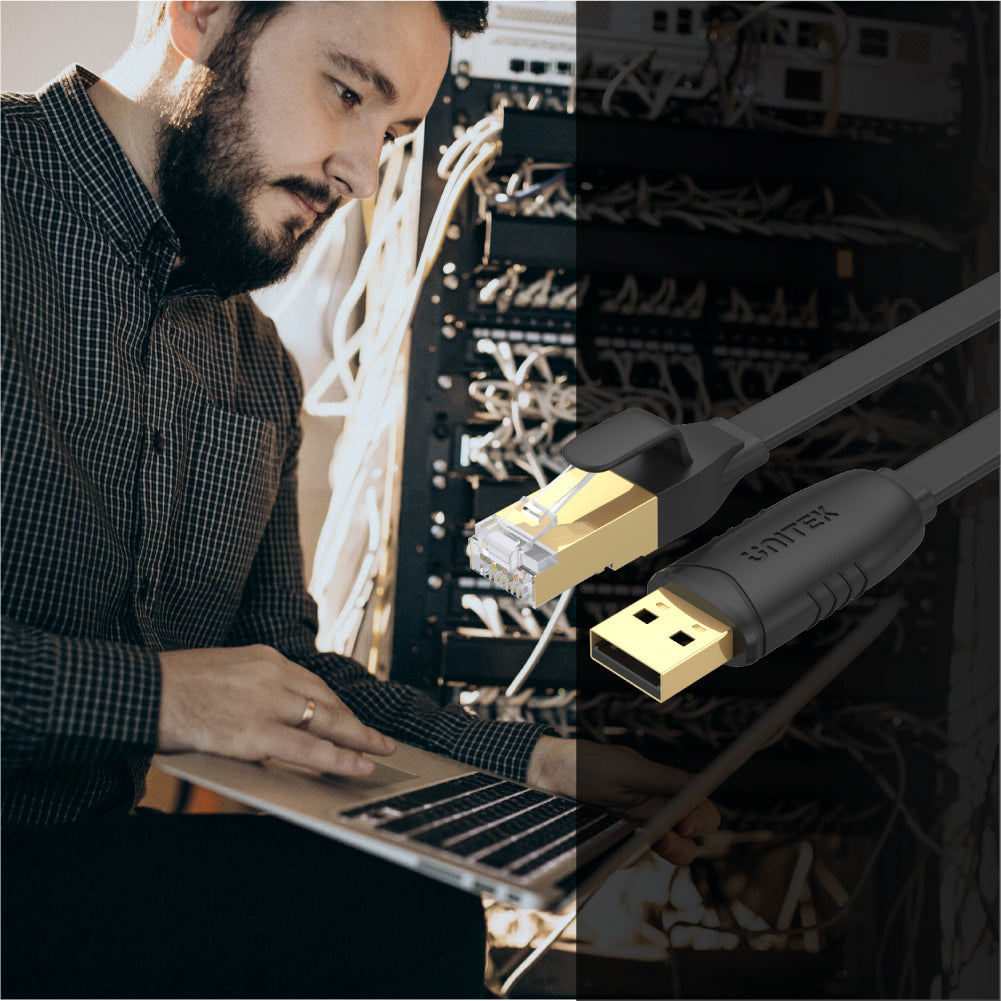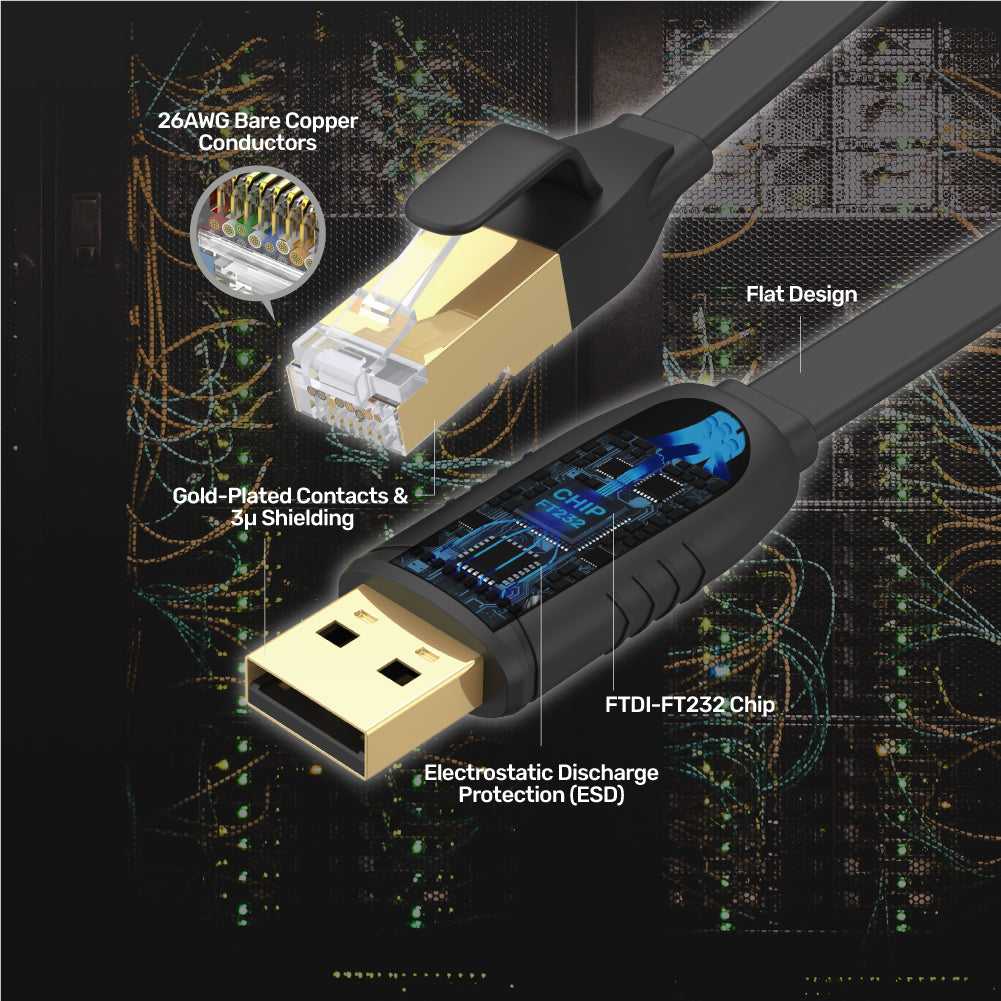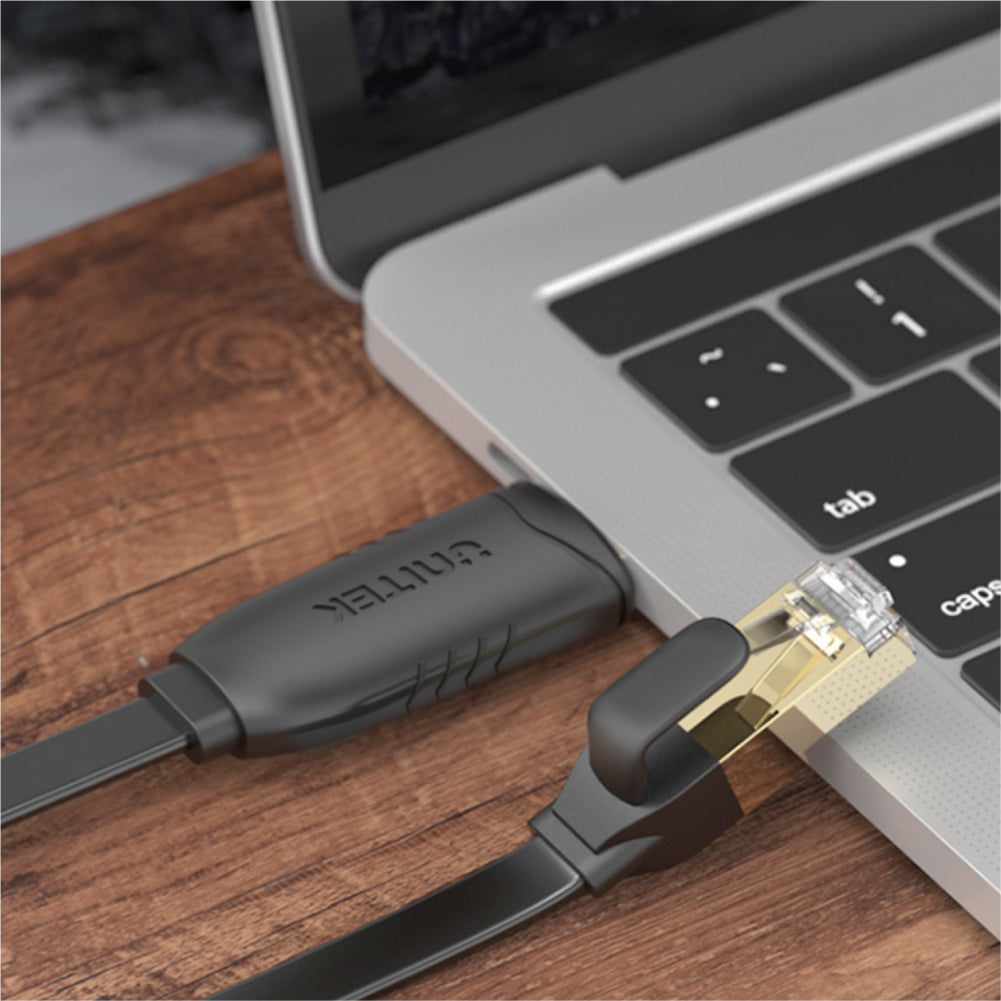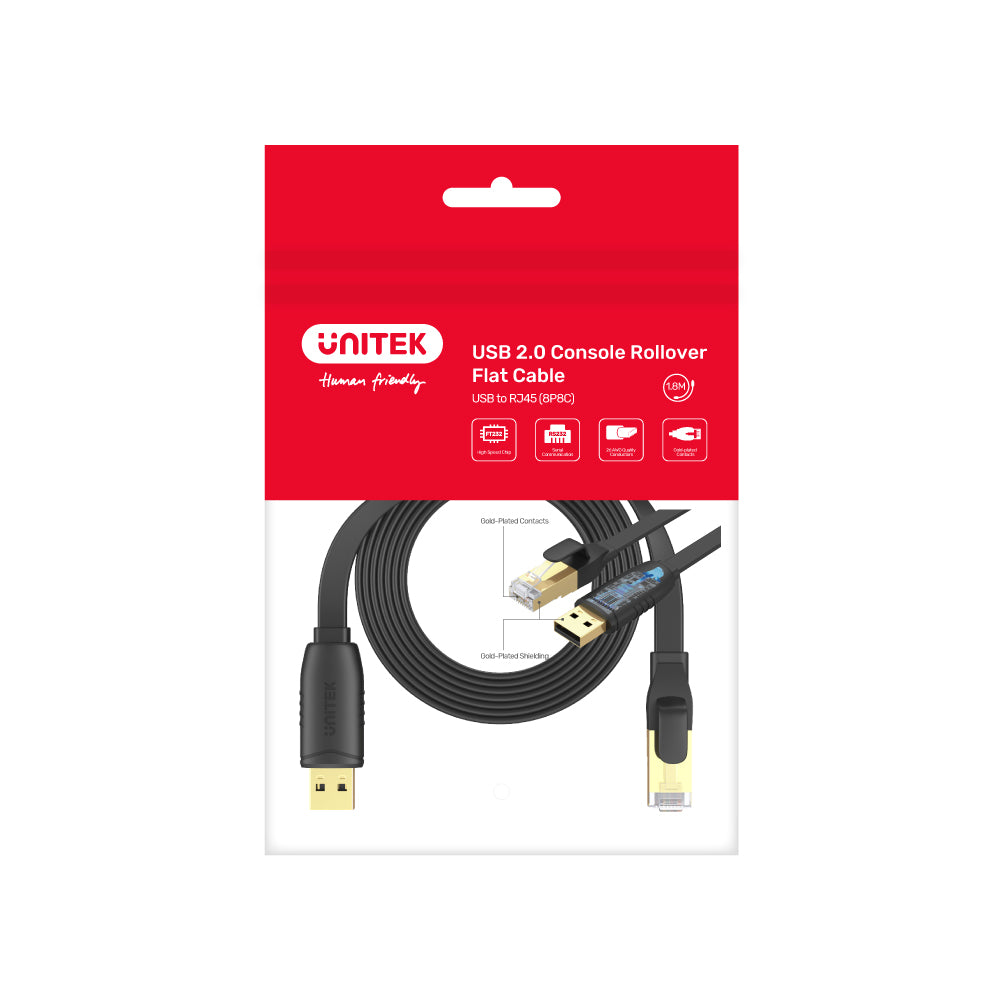 USB 2.0 to RJ45 Console Rollover Flat Cable
This USB 2.0 adapter is useful to directly connect with Cisco-standard serial console, ideal to replace RS232 (DB-25/DB-9) serial port adapter cable.
Product Description
Designed for debugging and configuring network equipment, connecting to the console port on a modem, router, server, switch or other Serial based devices, from your PC and laptop directly over the USB2.0 specification. Note: This is not a USB Ethernet cable.
Integrated with FTDI-FT232 chip handles the USB signaling and protocol functions including an RS-232 level shifter, and with high compatibility and stability.
Support hardware handshaking and software flow control including CTS/ RTS/ XON/ XOFF.
Full support for 32-bit and 64-bit Windows, Mac OS and Linux.
Flat cable design, helpful on the installation which aiming for an indiscernible and harmonious purpose, or for convenient storage purpose.
Made with 26AWG bare copper conductors, offers higher efficiency with lesser electrical resistance, gold-plated shielded RJ45 connector against EMI and other interferences, and gold-plated contacts help boost up the efficiency of data transmission.
With ESD protection system, occurs automatically when a charge is exchanged between two devices of unequal charge potential.
Notice: This product comes with a driver installation. Please download the drive at www.unitek-products.com during the first time use.
Product Spec
Color
Black
Dimension
N/A
Material

• Connectors with Gold-Plated Contacts & 3μ Shielding
• PVC Flat Cable Jacket
• 26AWG Bare Copper Conductors


Upstream
USB-A
Downstream
RJ45 (8P8C)
Power Input
N/A
Power Output
N/A
Cable Length
1.8M

Package Content

1 x USB 2.0 to RJ45 Console (Rollover) Flat Cable